Northcape turbo project
Right I've finally got round to uploading pictures to my laptop and thought it was time I created a project thread.
So here she is the day I got it home.
A bit of history about the car: Its a 1996 4x4 turbo in Northcape. Its done 71000 miles. Its had 2 previous owners, the first one until 2013. It has full service history. It had a new engine fitted buy Vauxhall in 1999 at 32,000 miles. The paper work/ receipts for this work say exchange of unit due to faulty engine. I'm not sure what fault was or how it happened so its a good job the original owner purchased an extended warranty. So essentially the engine has only done 39,000 miles. It has also been completely cleaned up underneath and under sealed in 2012. Unusually this car came with a cloth interior.
As with any Calibra there are a few small issues that need to be addressed. There is a couple of small rust patches on bottom of drivers door and on drivers side sill. The rear bumper is marked where a towbar had been fitted. These will be sorted out when it goes to the bodyshop. There was an oil leak coming from the sump gasket. Apart from that the car is in really good solid condition.
Fist job was to give the car a good clean inside, out and clean up the engine bay. Few little jobs done, removed and cleaned out screen washer bottle and new Vauxhall battery fitted as drop test showed old battery to be in poor state of health. Oil sump gasket replaced with gasket/ baffle plate and stainless sump bolts fitted.
I decided to fit one of the leather interiors I had as I prefer a leather interior to a cloth one. Made a good set out of the two I had.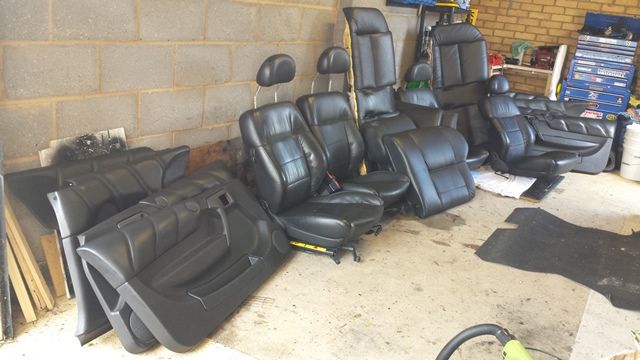 A few bits collected while I had my old black turbo and few new bits to fit, but the list keeps getting longer with things I want to do.
I've had a set of angel eyes in the shed for years and the passenger side one was faulty, so I decided to use the clear lenses and fit them to the standard headlights. so I removed the clear lensed and binned what was left of the angel eyes. Removed the glass from the standard headlights and fitted the clear ones.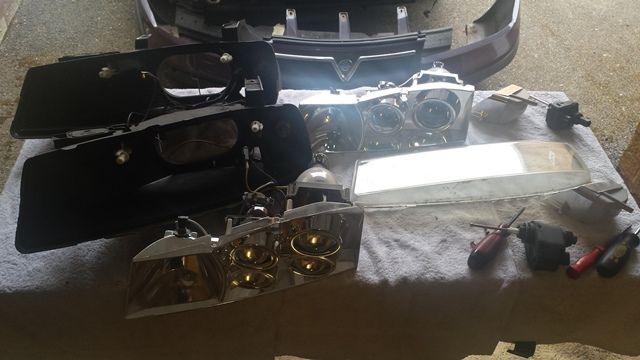 after some cleaning of the standard headlight units and some PlastRX on the plastic clear lenses.
Headlights fitted to car and new heat shield fitted.
While I had the bumper off I fount the brackets that hold the corner splitters to the front bumper had completely rusted through so Ive made some new ones out of 2mm stainless so the won't rust again. Also managed to get some new (old stock) corner splitters from Germany.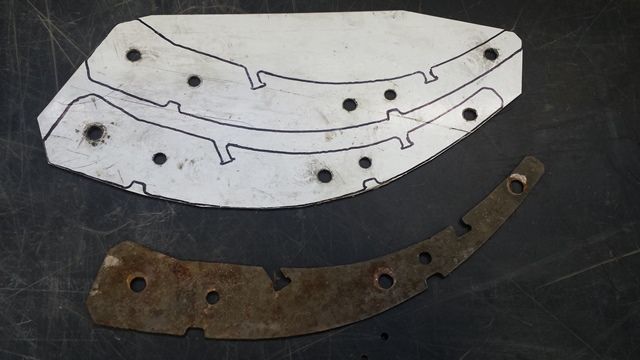 Scorpion stainless cat to back exhaust fitted.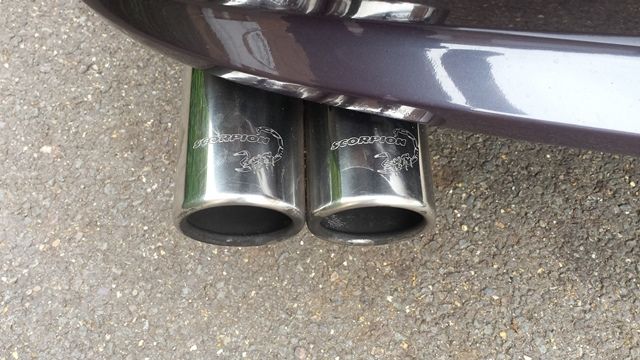 Home made stainless de-cat pipe fitted. Sorry for the poor picture but I forgot to take a picture before I fitted it.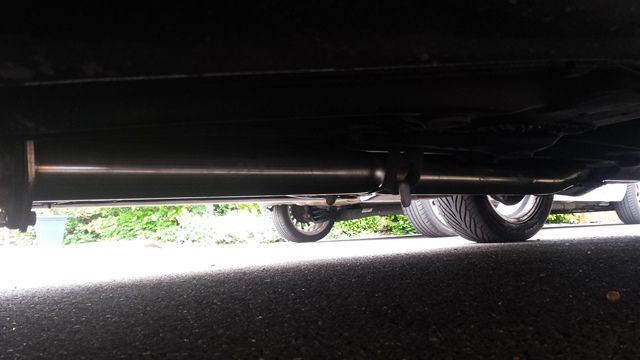 This is the engine bay as it stands. Strut tops painted white. 3" stainless AFM to turbo pipe fitted. Painted spark plug cover. Rocker and cam belt covers will be painted northcape when car goes to bodyshop.
Its big... Its
BLUE
... Its behind you
Magnetic blue SE8
Diamond black turbo 4x4
---
So recently as mentioned in another post I'm having fuel/ electrical issues which seemed to start on Thursday when I went to take the cally for a run. The fuel pump will not prime but works fine when the relay is shorted out. I've fitted a known working relay I can get the car to start when the relay pins are shorted and the pump runs fine when the car is running. So a bit of investigating is required.
Also when running under heavy load the car felt like it was being starved of fuel. After doing some investigation and dropping the fuel tank I found the plate that houses the fuel pump and fuel lines to be corroded. The Fuel feed pipe elbow is loose in the plate.
I will be making one out of stainless and while I've got the tank off I will fit a Walbro HP pump and run all new rubber fuel line on the rear of the car.
Its big... Its
BLUE
... Its behind you
Magnetic blue SE8
Diamond black turbo 4x4
---
good work mate, be nice to see this one at Billing this year

BETTER TO HAVE A CALIBRA AND NOT NEED ONE, THAN NEED A CALIBRA AND NOT HAVE ONE!!!
BEST STANDARD BILLING 2009 CO-OWNER
BEST STANDARD BILLING 2011 CO-OWNER
BEST PRESENTED BILLING 2012
BEST ENGINE BAY BILLING 2015
Chairmans Choice - Scottish Car Show 2016
BEST INTERIOR VBOA 2017
---
Looks great mate well done pal
Calibra l,e number 4
Project it's a secret
Best engine bay 2011
Best engine bay 2014
Best in show 2016
Treasures cup 2016
best engine bay 2017


Have car have cloth will clean need life
---
Nice work James,see you in a couple of weeks

craig
Best Presented Billing 2011
---
Is this meguiars plastrx any good?
---
looking good mate roll on Billing 2015
steve
Chairman

The Drain

LE 4x4 turbo

SE2 4x4 turbo RIP
---
RedCalibra33 wrote:Is this meguiars plastrx any good?
Yes its really good stuff. Works well on acrylic type plastics too. Althought if your headlights are really bad you will be best off using wet and dry first, then use the PlastRX to finish them off.
I agree it the white doesn't look quite right at moment but will look good agains the rocker cover when its painted northcape.
Its big... Its
BLUE
... Its behind you
Magnetic blue SE8
Diamond black turbo 4x4
---
Good work

hope to see you at Billing.
Now with 2X
Se9 V6 flame red
calibra's
Best Presented Billing 2009
Best Interior Billing 2010
Not there Billing 2011 but I'll be back 2012
Flooded out 2012
Best year yet 2013
Best in Show
Best Interior 2014
and 1 German (Vorsprung Durch Technik) Coupe
---
Today I've been busy trying to sort fuel issue out. I found a break in the signal/ ECU wire. This has solved the problem with power/ priming of the fuel pump when ignition is turned on.
I have made a new fuel tank cap out of stainless steel. The ring is made from 1.5mm and top plate made from 2mm, with 10mm dia fuel connectors on the bottom and 8mm ones on the top.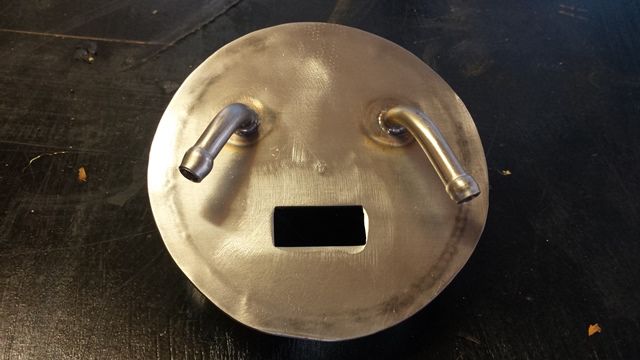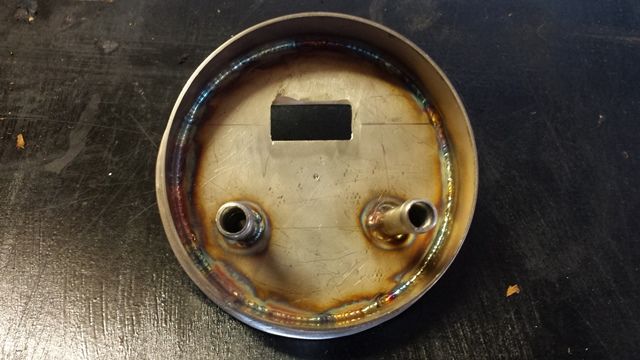 All fitted and new fuel lines attached.
I have also fitted a Walbro HP 255lph fuel pump while the tank was off.
Fuel tank straps have been cleaned up and new m6 studs welded on so I can fit the wheel well cover.
Before
After
I've made a fuel tank heat shield. Its only a prototype made from some 1.5mm stainless. The old one is so corroded and had broken away from the mounts I couldn't measure it accurately. It fits so I will make an exact copy from 1mm stainless when I get some in at work.
Its big... Its
BLUE
... Its behind you
Magnetic blue SE8
Diamond black turbo 4x4
---
That's coming along nice
Mark

...........It's

Red
........It's a
V6
............It's an

SE9

!..............and

She's bad.
Mark1@clubcalibra.net
ClubCalibra Best Presented 2006
ClubCalibra Best Presented 2010
ClubCalibra Best Interior 2011
My Garage
---
Nice work pal don't suppose you fancy making another fuel tankcap do you

It's looking great pal
Calibra l,e number 4
Project it's a secret
Best engine bay 2011
Best engine bay 2014
Best in show 2016
Treasures cup 2016
best engine bay 2017


Have car have cloth will clean need life
---

I can see quite a few similar requests appearing
And another heat shield ?
Phill.
---
very interesting......great work there......Question....how many wires are going to the pump...?
ClubCalibra.net

Posts: 144
Joined: Tue Mar 10, 2015 10:38 pm
---
Good work on the Turbo, id be interested in a fuel tank top plate too.

1996 ceramic blue 16v ecotec
Club Member

Posts: 211
Joined: Fri Feb 20, 2004 1:00 pm
Location: Barnsley
---
---
Who is online
Users browsing this forum: No registered users and 3 guests