single wire temp switch on the transfer box needed
Richie's would of been warm. Might be why there is a change in temp sensor reading!? (Further tests would be only way to tell.
Would be worth rich double checking his fuse.
Ref: how I tested. I just followed the section in pic below (highlighted blue)
And you can see there was plenty other testing points we didn't do.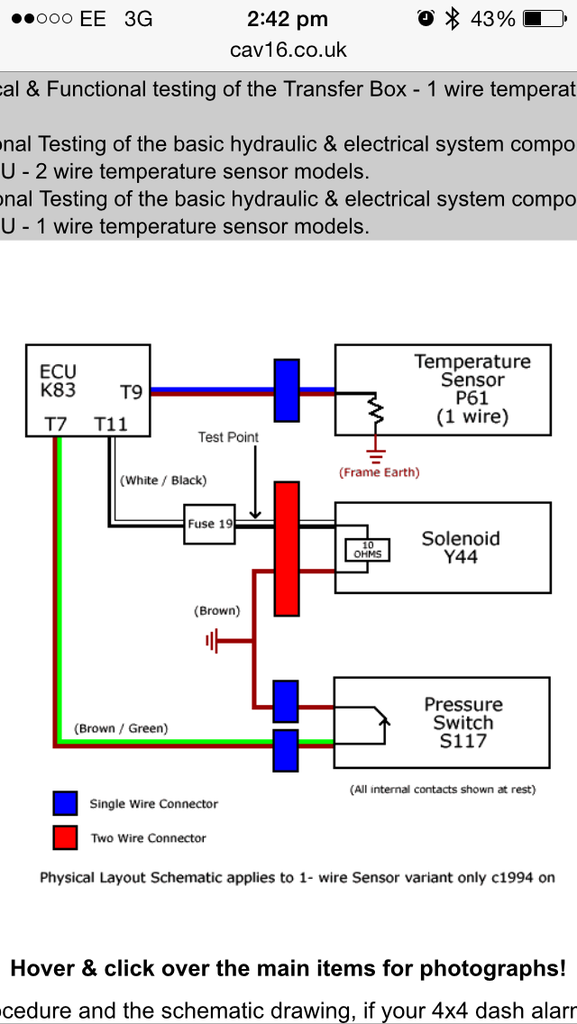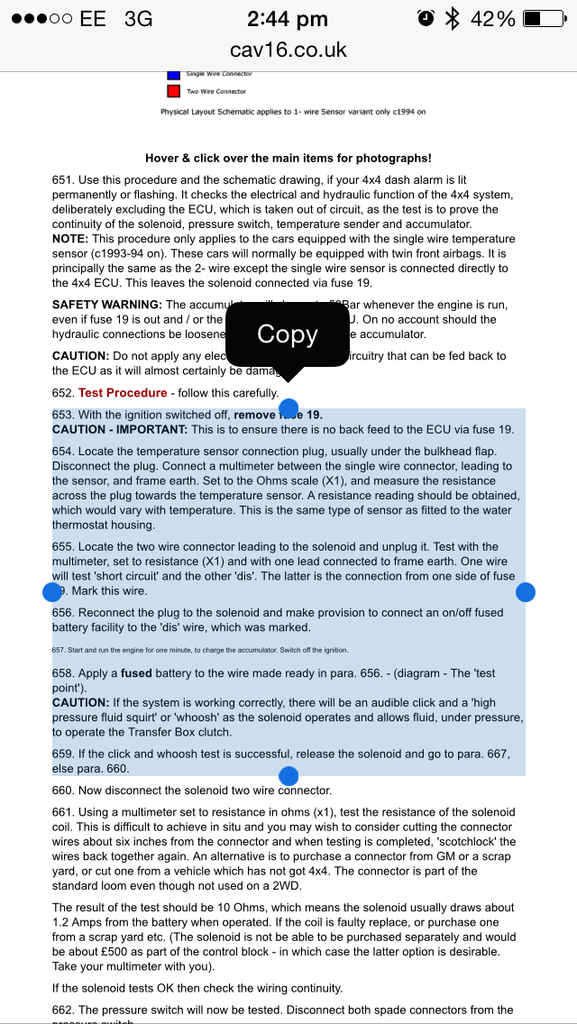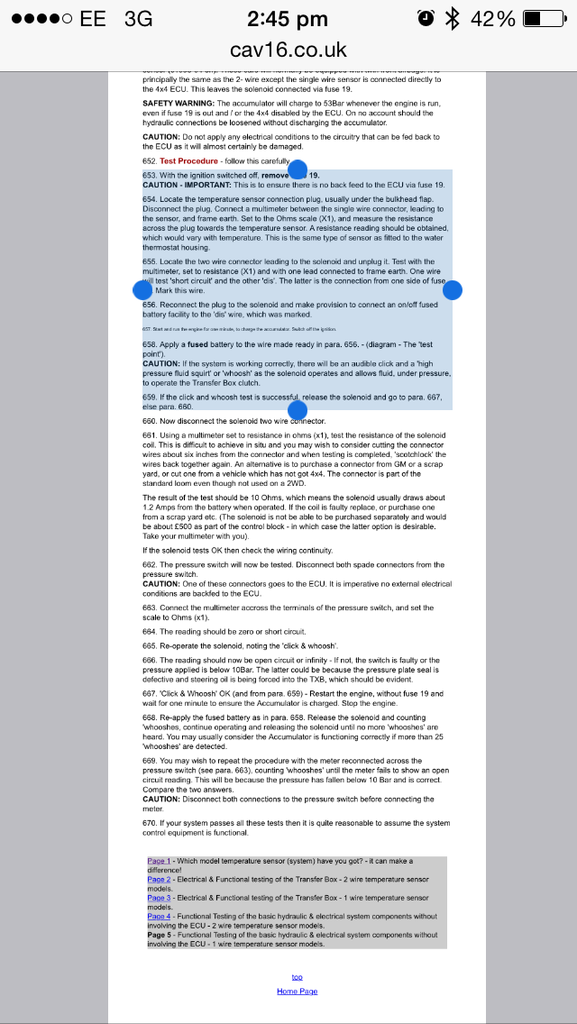 ---
Sorry for delays answering guys but ive been going nuts trying to solve this , yes martin i did test the other solenoid valve and it clicked and odly the wire got how also ermmm! will whip out the other one and see what that does.
Found it odd over yours when we tested the one fitted martin and the abs unit was clicking ( very strange ) not sure it its meant to tbh, trying to get another single wire sensor now wondering if this is causing problems now its been stretched and snapped ( new one obviously better ( if i can find one) Heads spinning somewhat as also trying to solve turbo performance issue. sort of to much work in my head , Will try and find a tech 1 around me to see if fault codes exist for 4x4
---
It should still click with or without the temp sensor connected. So even if yours if fooked it should still click.

Yours didn't do something else is wrong. Even if your temp cable is fooked which after getting readings I don't think it is.

I've gotta take a break from this thread for a bit now.
---
Been out and tested a few things Brian advised!! I know the system isnt working at all now as done the simple test of removing fuse 19 and the undoing bypass screw! This should make the fluid rise in the block while the bulb returns it ( this dont happen) I also know the solenoid is not broken as did the same test me and martin did by adding 12v to the connection on the front of the block and i can clearly hear and feel with my fingers that the solenoid clicks open and shut. Tested the wire to the transfer box by testing ohms while running and the values drop as the car warms up ( seems that is also working ) Yet the system is not working? Getting and odd 3v from the 2 wires on the rear of the solenoid and a 6.5v from the plug on the front ( have nothing to measure this against to know if its right or not. Still trying to find someone with a tech 1 as the next step ( although Brian suggest that it will only tell me theres an issue but not exactly what the issue is ..
---
Next step . reported back to Brian who suggest that on many an time hes had contamination block up and ruin the actual block itself when its been standing and not use for a long time ( like mine has been ) Going over to a pals place tonight whos in london and has several blocks with bulbs attached to see if it is this ( a nice free option also) might be this i guess and it will be simple to try..
---
Moved to Technical/Electrical.
Details on how to join the club
---
Click me
---
Just to end this ive sorted the issue now , turns out the solenoid was seized up inside the body of the block and although clicking was not working at all . Seems along time not being used had caused it to lock up , Fitted a complete block now with my new bulb and all seems fine . One problem down LOL
---
---
Who is online
Users browsing this forum:
Google [Bot]
and 5 guests