Turbo downpipe question
---

Is it known as a 'divorced' pipe?

I think the price is pretty good, but like you say it's expensive if it has rubbish welds and tube thickness etc.
---
---
What about asking someone like Longlife to make one.
Mark

...........It's

Red
........It's a
V6
............It's an

SE9

!..............and

She's bad.
Mark1@clubcalibra.net
ClubCalibra Best Presented 2006
ClubCalibra Best Presented 2010
ClubCalibra Best Interior 2011
My Garage
---
I have that very pipe fitted to mine (first link on thread)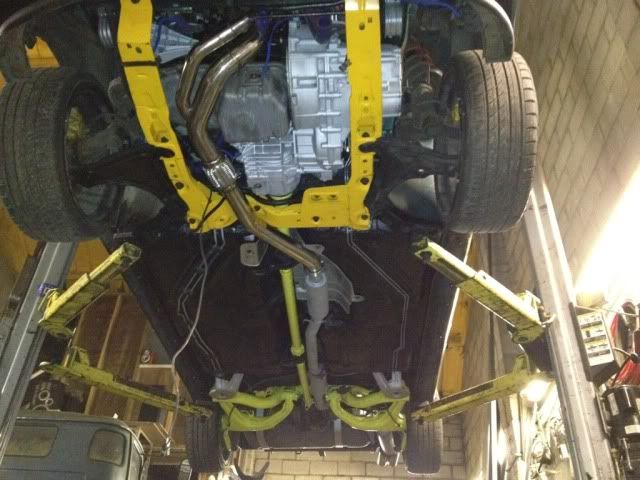 I couldn't say what gains it's added because I rebuilt the engine and added a hybrid turbo. And the car feels so different to drive after driving a deisel Astra for so long. It does sit very close to the sump!!!! When I got It a mate wouldn't believe it was SS and went at it with a magnet. The only part it stuck to was the plate that bolts to the turbo itself. Now it's done nearly 1000 mi on the car it's not the same colour it was! I can get pics if you want.
---
Agreed, maybe one of the differences between this and the £400 one!
The pipe work felt solid! The hole thing didn't strike me as feeling light weight in anyway.
---
I've got 3 downstairs I wish someone would take!!

On a serious note, I hope not!!!! That exhaust is a cat back scorpion system (advitised as) off a member on CTOC. It's got scorpion stamped on each box and pipe and has the 3 bolt flange where it joins my downpipe so first box is where cat should be! Didn't think scorpion did a decat! I took a strait through pipe off to fit this!!
Grrrrrr
---
Does yours look like mine??
---
I know its a little fair away but i was thinking of getting either this or the 3" tx downpipe. Im also having it dyno'd shortly after so could put up the differences in a few weeks if its of any interest?
ClubCalibra.net

Posts: 126
Joined: Thu Jul 28, 2005 12:00 pm
Location: long eaton nottingham
---
---
---
Who is online
Users browsing this forum: No registered users and 2 guests